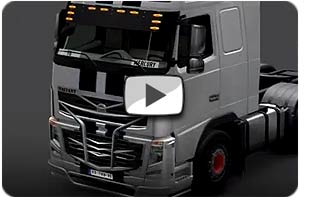 Euro Truck Simulator 2 – beta version Volvo FH16.
Video trailer of the upcoming Euro Truck Simulator 2.
This video is captured from the Beta version of ETS2, so it may differ from the final version as far as some details are concerned.
Test PC used::
Intel Core Quad CPU Q8200 2.33 GHz RAM – 5 GB – GeForce GTS250 512 megabytes – Windows 7 64 bit – Logitech Formula Force EX.
Prepare to test your driving skills across 60 cities across Europe driving some of the worlds best trucks! Out this year in 2012.
Developed by SCS Software
Published by Excalibur Publishing
Video by TruckGame.cz


Check out http://www.eurotrucksimulator.com
---