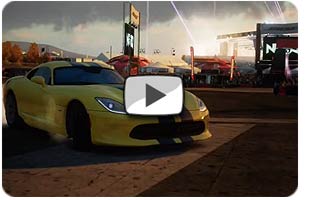 Forza Horizon – Behind the Scenes Episode 4.
Welcome to the fourth episode of "Forza Horizon — Behind the Scenes"! In this episode, we bring you behind the curtain of the Horizon Festival itself, talk with the man behind the awesome Horizon soundtrack (BBC Radio DJ Rob da Bank) and give you a glimpse at the competitive online aspects of Forza Horizon — you know, the stuff that's going to keep you coming back for months to come!
Players who download and play the Forza Horizon demo and then purchase and play the full game online will receive a specially designed 2013 SRT Viper GTS! This rare liveried car will only be available to those who play the demo and purchase and play the game online. The Forza Horizon Xbox LIVE demo requires an Xbox LIVE account. To receive your free Viper you will need Gold member exclusive access.
Official Webpage – http://forzamotorsport.net
---