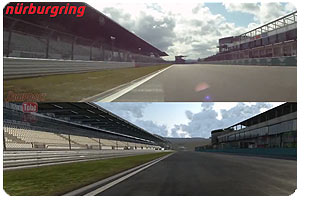 Project CARS Vs Real @ Nurburgring GP.
DigiProst created a new comparison video of the INurburgring track vs the real venue.
The Nürburgring is a motorsports complex around the village of Nürburg, Germany. It is located about 70 km (43 mi) south of Cologne, and 120 km (75 mi) northwest of Frankfurt.
It features a Grand Prix race track built in 1984, and a much longer old "Northern loop" track which was built in the 1920s around the village and medieval castle of Nürburg in the Eifel mountains. The old track was nicknamed "The Green Hell" by Jackie Stewart, and is widely considered as the most demanding and difficult purpose-built racing circuit in the world.

Check out http://wmdportal.com for more info - http://www.slightlymadstudios.com
---
Related posts: