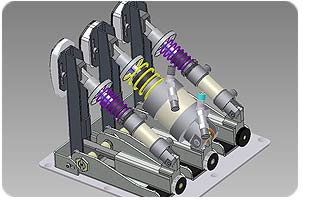 ARC_Team – Design renders of the new ARC_Pedals V2 .
Last January ARC_Team announced their new ARC_Pedals. A limited edition of 70 pieces has been build..
The product was out of order by the third month and could be called a great success.
They where forced to re-design the pedals to keep up with the demand.and wishes of the customers, while the price had to be suitable to all.
The new project, started last May,and has now been completed.

The first prototype of ARC_Pedals V2 will be unveiled at Mugello next week when ARC_Team will be on track together with Torino Motorsport for the Formula .Renault Alps race.
As with the previous version, the development was done with help of various motorsport engineers and drivers, and the italian Sparco company as key partner for this product.

The beta testing will start right after the presentation and plans are to release it between late October and late November.
This will make sure the first orders will be shipped before Christmas. During the project and development they tried to keep a high quality standard while trying to reduce the parts cost.
.
Check out the new ARC_TEAM Webstore @ http://www.f1driving.it/ecommerce/
For more info visit http://www.f1driving.it/en
---