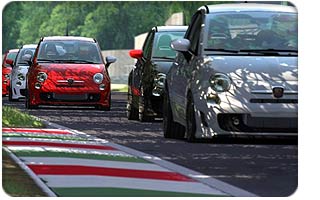 Assetto Corsa – Mugello track previews.
Kunos Simulazioni Have posted the first set of  Mugello track previews for their Assetto Corsa Simulator.
Mugello Circuit (Autodromo Internazionale del Mugello) is a race track in the Mugello region of Italy near Florence. Its length is 5.245 km (3.259 mi). It has 15 turns and a long straight.
Grand Prix motorcycle racing host an annual event here (MotoGP and smaller classes). Also, the Deutsche Tourenwagen Masters hold an annual event.
The track is property of Scuderia Ferrari which uses it for Formula One testing. The first race of the A1GP 2008/09 season was originally planned to be held at the Mugello circuit on 21 September 2008. However, the race had to be cancelled due to the delay in building the new chassis for the new race cars.
Track Website – http://www.mugellocircuit.it/
Assetto Corsa is a new PC-based racing game for Windows, expected to be released in 2012. Assetto Corsa is being designed to provide a very realistic driving experience, with single player and multiplayer options, officially licensed cars and tracks developed using Laser scan technology, and the highest level of accuracy possible in reproducing real world motor racing environments.
Official Webpage – http://www.assettocorsa.info     –    http://www.kunos-simulazioni.com Official Webpage