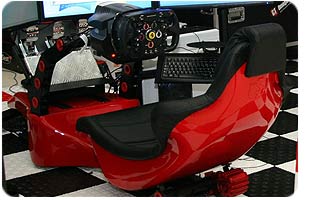 Hardware – A closer look at the Rseat RS F1 Gaming Seat.
Lets have a closer look at the rSeat RS F1 Seat.
RS FORMULA
Support Wheels:
Thrustmaster® T500RS + F1 addon
Fanatec® Porsche GT2, GT3, CSR, CSR-Elite
Clubsport Pedals, Shifter Set
Logitech® G25/G27.
Included:
Keyboard and Mouse tray
2 x Buttkicker Gamer 2 mounts
All tools and screws to attach your wheel and pedals
Assembly tools
Assembly instructions
Full Adjustability
All way adjustable to deliver real formula driving position. Applicable for drivers from 150cm (4'11") up to 200cm+ (6'67"+) and weight up to 130kg (286 lbs).
Innovative Design:

The rig is solid as rock and fully adjustable. Pedal plate design is suitable for pushing over 100kg on it. The wheel mount is reinforced and there are no movements at hard steering. The rig is build using fiberglass and carbon steel finished in high gloss quality paint. In stores in October 2012.

For more info visit http://www.rseat.net
---