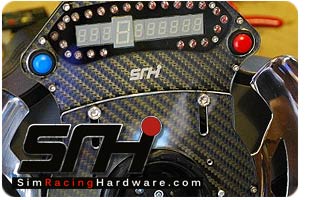 [SRH] new static T500 SLI static slide up for sale.
Sim Racing Hardware [SRH] has finaly released new version of their static T500 SLI mount foruse on the popular Thrustmaster wheel.

This new version slides up and down so it will work with both the T500 R GT and the Ferrari Formula One with an easy and super fast adjustment!
The unit will replace the current mount and will be available for SLI-Pro/SLI-M and our own Shift light unit soon.
The unit retails for 69.95 GBP ($112.42 – €86.79) without the SLI, but can also be ordered with the optional SLI Pro for 225 GBP ($361.59 – €279.17) or or SLI-M 185 GBP ($297.35 – €229.53)
[AFG_gallery id='219′]
You can check out the official SR Hardware support forum at RaceDepartment.com
SR Hardware can offer a bespoke building service for an ever growing number of products.
Their dedicated design team can tailor a product to your specific needs, creating an item following your design brief and ultimately supplying you with the product you need. Whether you are a sim racing enthusiast or a real world race team building up a simulator for testing and development, SR Hardware can help realise your Simulation needs.

For info and Purchase go to SimRacingHardware.com
---