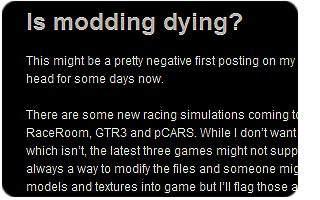 Interesting Blog post by Erale – Is modding dying?
Allot of you interested in modding will without a doubt know the name " Erale"
He started a blog page, and his first post is a rather interesting view on Modding in sim racing 2012.
QUOTE…
This might be a pretty negative first posting on my blog but this is something going on in my head for some days now.
There are some new racing simulations coming to the PC market. rFactor 2, Assetto Corsa, RaceRoom, GTR3 and pCARS. While I don't want to discuss which game might be a sim and which isn't, the latest three games might not support modding as we know it. There will be always a way to modify the files and someone might write some sort of converter to get your models and textures into game but I'll flag those as non-modable right now.
This leaves us with rFactor 2 and Assetto Corsa. rFactor 2 is already available as a public beta and it includes tools to create your own cars and tracks for the game. As for Assetto Corsa all we know is that it's supposed to support modding. But we still don't know any specifics.
I'm going to split down the issues I have with modding right now into those two sims as I think each of them has it's specific problems. Note that those could also apply to the other sim in some weaker form.
Read the original post on http://modding.erdbeerfeld.com
---