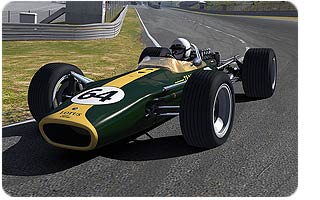 [AFG_gallery id='226′]
iRacing – Lotus 49 ingame previews.
The virtual iRacing version of the famous Lotus 49 will is on pre-sale and will be released shortly.
When building the model iRacing was fortunate to have access to the very Lotus 49 Clark drove to that historic victory in 1967.
The car is currently owned by vintage racer Chris MacAllister of Indianapolis, who has generously offered iRacing complete access to Clark's car during the precision modeling process. iRacing's engineers will shortly begin measuring the Lotus 49, with a targeted release for the latter part of 2012.

Check out www.iRacing.com
---