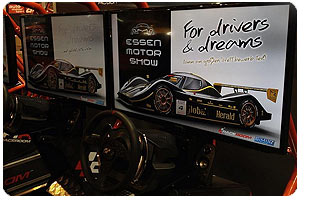 RaceRoom Racing Experience at the Essen Motorsport Show 2012.
RaceSrarTeam visited the Essen Motorsport Show 2012 and shot this little video of the RaceRoom booth at the show.
On the 2012 Essen Motor Show visitors are able to experience motor sports close up and turn the wheel themselves.
Together with RaceRoom, the Motor Show presents challenging Time Attack Races in the RaceRoom simulators from 1.12.-9.12.12
Motor sport fans among the visitors can race the track against the clock with an Aquila CR1 Sports GT free of charge. The realistic driving physics demand expert driving skills to rank as Essen Motor Show Time Attack Champion within the Leaderboard of the more than 220,000 users of the RaceRoom-Community. Beside the shot at the title and prices totaling 10,000 Euro, each visitor at the RaceRoom booth (Hall 3 / Booth 341) receives a version of the RaceRoom Racing Experience PC-Software.
The quest for the EMS 2012 TIME ATTACK CHAMPION takes place on eight high-end simulator cockpits. Dolby Surround systems, Thrustmaster professional GT wheel base and pedal set and 40"-Full-HD-TFT's on the RaceRoom Simulators fully reflect the fascination of the 600 hp Aquila CR1 Sports GT. The RaceRoom Racing Experience Simulation Software from awarded development studio SimBin brings across the driving dynamics of the race car and convinces even race pros like former Formula-1-Champion Nigel Mansell.
To offer equal chances for all participants on Essen Motor Show the challenge runs against the clock on the RaceRoom Raceway. The track with its hair pins, chicanes and the rangy routing draws on sim-racers as well as racing pros. Each lap time is simultaneously transferred to the EMS 2012 TIME ATTACK Leaderboard which can also be called upon here on the web site of Essen Motor Show. The EMS 2012 TIME ATTACK races are on for each day and are one of the highlights in the general program of the 45th Essen Motor Show.
Source: Motor show Essen.

Check out http://insider.simbin.com
---