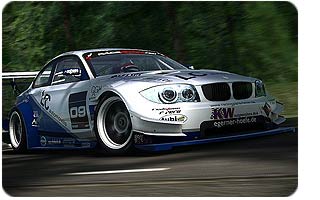 RaceRoom Racing Experience Q&A Part 4. by Diego Sartori.
Diego Satori of SimBin went through yet another Q&A and the answers to said official RaceRoom Racing Experience Q&A #4 are now up on the SimBin website and, for the sake of simplicity, on RD as well!
RaceRoom Racing Experience is an upcoming Free-to-Play game to be released by SimBin, creators of GT-R, GT Legends, Race07 and many other hardcore simulation games. A teaser is currently available to the public through Steam.
Q: RaceRoom Raceway looks incredible. Can we expect more fictional tracks?
A: We needed a fantasy track as part of RaceRoom Racing Experience and we needed the creative freedom that comes with having a license free track, but we wanted it to be a "real" fantasy track in the sense that it had to come across as a track that could just as well have been real.
We are really happy with the outcome of RaceRoom Raceway and chances are that we will make a few other fantasy race tracks of the same high standard.
When and if this happens, it will be as a result of a layout/scenery concept that we think could be a worthy addition to the game, it will never be something we resort to in order to rack up the track count of the game.
For Hill Climb stages we do however use fantasy stages in addition to the real stages that are planned for the game.
Q: How many layouts are included in the RaceRoom Raceway circuit?
RaceRoom Raceway supports 5 different layouts in total.
During the tracks development we did try to add more layouts to the track but it came across a forced and moved the feel of the track away from that real sense we felt it should possess.
Q: Can we expect more original cars like the Aquila, Georg Plasa BMW and the P4/5?
Yes, there will be more "original" cars coming for RaceRoom Racing Experience, exactly what cars and when I cannot disclose at this time.
Q: Do you have plans to release some legends or classic cars?
Your age more than often determine how old a car needs to be in order to qualify as a classic and your geographical location may have its own car legends, this we know to be true and therefore we have tried to collect cars from interesting car manufacturers from several different decades and several different classes.
RaceRoom Racing Experience for the most part is about modern racing featuring current cars as you would be able to see them out on the race tracks, on TV, YouTube and the Internet in general. Looking at the current lineup of cars, I do see cars that I would refer to as classic and/or legendary and I am sure most players will be able to find cars they would label the same way.
Q: Will there be custom skin support? If so, will they be shared automatically?
No, there will not be custom skin support in the traditional sense, this basically due to license limitations on some cars.
We do have two fantasy car classes that we are dying to share with you guys, one of them is our 2012 interpretation of the amazing Group 5 cars.
For a fantasy class there are no license restrictions to take into account so as long as we can motivate the investments we can more or less do what we want with these cars.
It should be said that these cars are done with the same mindset as we used for RaceRoom Raceway and the cars could just as well have been real race cars and while doing these cars we often found ourselves hoping a class with these cars would exist in real life.
How does this relate to the question you may ask. The simple answer is that we wanted absolute creative freedom so that we could introduce an additional layer of persistence into the games already persistent nature, this when we think the time is right for such an additional layer.
What this means for custom skin support and how skins are shared is too early to reveal, so a simple answer is no, there is not going to be custom skin support at first, but we know you want and it is certainly also something we want to have.
Q: How tightly will RaceRoom Racing Experience be integrated with Steam?
RaceRoom Racing Experience relies on an active Steam account in order to run and vital parts of the games infrastructure uses Steam technologies.
Q: Will there be car setup adjustments? If so, will they be freely shareable like in previous SimBin titles?
Yes, Get Real™ comes with a fully featured car setup interface much as you would expect from a SimBin game and car setups can be saved and loaded from within the car setup interface.
It will become possible to share car setup files through the games online Portal. You will be able to make a car setup public or only accessible to your friends, they will be able to access your shared car setup files through your profile on the Portal.
For clarification it should be said that sharing of car setup files through the Portal will not be available on day 1 of the RaceRoom Racing Experience release, an announcement will be made when the feature is available for you guys to use and hopefully enjoy.
Q: When can we play the "Get Real" version?
Get Real™ will be available from day 1 of the RaceRoom Racing Experience Release.
Q: Is RaceRoom Racing Experience a test platform for GTR3?
No.
Q: Can we race offline with AI in the future?
Yes, you can race offline in single race events and championship events, against Classic AI or against our new Adaptive AI. The Adaptive AI is designed to match the player's performance level on a per race basis, this means that as the player gets faster and faster, so will the AI.
Q: Will any complete racing series like the WTCC be available?
It is the aim for RaceRoom Racing Experience to feature complete themed packs of content to reflect a given series. Exactly what series and how these packs are presented is too early for us to communicate about at this stage though

-Diego Sartori.
Read the original Q&A here

Check out http://insider.simbin.com
---


[AFG_gallery id='196′]