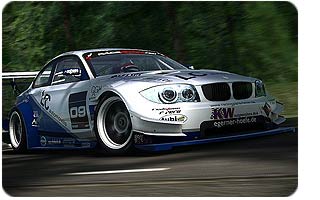 RaceRoom Racing Experience – More Free Content & Closed Beta. (UPDATE)
PRESS RELEASE!
SIMBIN STUDIOS REFUELS THE RACEROOM RACING EXPERIENCE™ TEASER WITH MORE FREE CONTENT AND A CLOSED BETA PROGRAM
The award winning Swedish game developer SimBin Studios AB and German publisher RaceRoom Entertainment AG today presented additional free content for the RaceRoom Racing Experience™ Teaser. Furthermore SimBin Studios has opened the doors for a closed Beta testing program.
SWEDEN, LIDKÖPING, Oct 11, 2012 – RaceRoom Racing Experience™ was today injected with a high performance supercar, the Saleen S7R and an additional RaceRoom Raceway track layout. See the video presenting the new content HERE.
Further releases of the RaceRoom Racing Experience™ are due for stress tests and the teaser menu now includes an application function where users can apply to join the closed beta program.
Don't miss out on this chance to get early access to content and features whilst contributing to making RaceRoom Racing an unforgettable Experience.
"'SimBin is extremely excited about the prospect of inviting the community to participate in the closed beta test program. It's a collaborative effort between the developers and players from around the globe which we hope will contribute to the on- going success of RaceRoom Racing Experience," said Chris Speed, COO at SimBin.
Sign up for the BETA here or click the button labeled 'Join The Beta' found in the main menu of the teaser.
_____________________________________

SimBin initial Beta announcement Quote:
After recruiting an internal team of testers earlier this year with great success, we are now about to start a closed beta program for RaceRoom Racing Experience™ that will give exclusive game access to thousands of people. The content of the closed beta builds will change on a regular basis with focus on different features, cars or tracks everytime.
This will be by far the largest beta program ever made by SimBin and for a reason: as you have probably understood from the several Q&A articles about our next game, RaceRoom Racing Experience will offer services that require a beta campaign of a much larger scale than any other we ever did before. That is why we need you all to sign up for it ! If you are just as excited as we are and impatient to jump in and get early access to content and features, then don't miss out on this chance !
The place to apply will be easy to find. We are about to release a patch for the Teaser edition of the game that will not only add a different car and track layout, but also an extra button in the main menu to "Join the Beta". It will bring you to our sign-up form for the closed beta that you just need to fill in and submit !

Check out http://insider.simbin.com
---