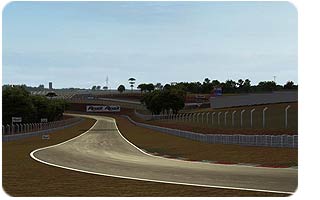 Reiza working on the Autódromo de Cascavel.
Reiza Studios is working on the The Autódromo Internacional de Cascavel for Game Stock Car 2012. Enjoy the first screenshots.
The Autódromo Internacional de Cascavel is an automobile racing complex located on the shores of Highway BR-277 in the city of Cascavel, Paraná, Brazil. The track is paved and has a length of 3.032 kilometers.
The first tests were carried automobile on city streets in the 1960s, with Amateurs, by locals, which led the pioneers to build an appropriate location for the events. In 1973 the Automóvel Clube de Cascavel opened the racecourse, being the third track with asphalt in the country.
Came to house the main competitions at national level. It was there that started the Fórmula Truck, and even hosted the 2001 Stock Car. He was recently named "Autódromo Internacional Zilmar Beux" in honor of its chief architect.
Over the years few investments were made on site, which subsequently withdrew from the race track official schedule of major competitions in the country. But still hosting important events in motor racing and motorcycling. It is also a great trainer of pilots, who work in various automotive categories in Brazil and abroad.

Official Webpage –
http://www.game-stockcar.com.br
–
www.reizastudios.com
---