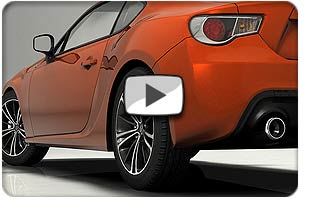 2012 Toyota GT86 released.
Created to bring the unadulterated joy of driving within the reach of mere motoring mortals, the GT86—a collaboration between Toyota and Subaru—was first glimpsed, in the guise of the FT-86 concept, at the 2009 Tokyo Motor Show.
The compact sports car, with its front-engine, rear-wheel drive layout, uses the eternally-popular Corolla GT AE86 as a reference point, but its list of influences delves even more deeply into Toyota's rich racing heritage than that, with the granddaddy of them all, the 2000GT, also contributing to its superstar DNA. And it certainly does its ancestors proud.
Despite only packing a 197-bhp, 2.0-liter flat-four boxer engine, its lightweight build—it weighs in at only 2,668 lb—means that it can still hit 62 mph in under six seconds (up to a top speed of 140 mph), while its dynamic handling means it shows as much charisma in the corners as it does on the straights.
To take the wheel of a driver's car with impeccable credentials and inspirational relatives, buy the Toyota GT86 today on Simraceway.

Official Webpage – www.simraceway.com
---