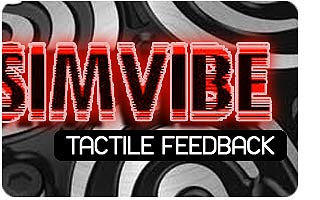 SimXperience SimVibe Software Released!
The much anticipated SimXperience SimVibe software has been released and is available for immediate purchase and download at SimXperience.com

SimVibe is a highly advanced tactile feedback solution. It extracts physics data from supported PC titles and generates realtime audio signals for use with audio amplifiers and bass transducers such as Aura, ButtKicker, Clark and Dayton Audio.

True Physics Based Feedback
Muti-Dimensional Tactile Feedback From All Four Wheels
Compliments Existing Motion Simulators & Motionless Racing Cockpits.

You can now bring sim racing games to life by adding the vibratory effects felt in the car into your experience at home.
SimVibe uses the physics data provided by simulation titles like iRacing, rfFactor, LFS, Dirt3, F1 2012 etc. to recreate the vibrations felt in the seat, steering wheel, and pedals of the vehicle into your own cockpit or chassis.

The software utilizes 1 – 8 bass transducers to provide users with a significant immersion improvement by representing, road surface, bumps, impacts, rubs, gear changes and engine rpm in a highly detailed manner.
Those that already have a bass transducer can simply add a second sound card to their PC and install the SimVibe software to get started. For those without a bass transducer, we highly suggest the all new ButtKicker Mini LFE SE (SimVibe Edition).

This new ButtKicker Mini LFE SE is the result of engineers at SimXperience and ButtKicker collaborating to create a transducer that's optimized for SimVibe. Because SimVibe is physics based, rather than audio based, the signal provided to the ButtKicker mini LFE transducer is "faster" and more intense than a standard low frequency audio track.

With this kind of signal a standard mini LFE can easily reach its' pistons' limit of travel (bottom out) and produce unwanted noise. The ButtKicker mini LFE SE uses dampening acoustic foam to reduce the noise generated by rapid piston movement (essential for a realistic experience using SimVibe). The result is a ButtKicker transducer well suited to the unique demands of SimVibe.
Features
True Physics Based Feedback.
Multi-Dimensional Vibrations
Greatly Enhances Motion Simulation
Adds New Life to Motionless Cockpits
Simulates Road Bumps
Simulates Road Texture
Simulates Engine Vibrations
Simulates Gear Changes
Simulates Collisions
Simulates Rubs & Bumps
SimXperience is an industry leading manufacturer of motion racing simulators and motion simulation products. SimXperience also specializes in racingand flight simulation software applications and continues to be an innovator and industry leading developer of software and hardware technologies in motion simulation.
For orders and info, check the official Webpage – http://simxperience.com