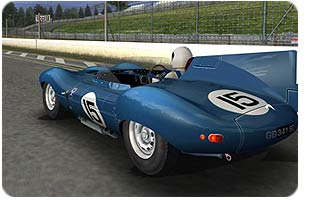 LM-55-MOD by Don PanoZ
Three cars are included. Jaguar D-Type from 1955 and 1957, Aston Martin DBR1 from 1957 to 1959 and Ferrari 250 Testarossa model 1958.
First coming out of the D-Types was 1954, one car reached second place in Le Mans. After that, D-Types where successful there in 1955, 1956 and 1957. Then, with new rules that limts the engines to 3 litres, success was over and the Ferrari tooks the place in first row, followed by the Aston Martin as a serious competitor.