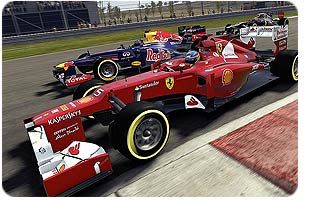 F1 2012 F1 2012 – Coming to your MAC soon.
Formula One is back on the Mac!
The official game of the 2012 FIA Formula One World Championship, F1 2012 features all the teams, drivers and circuits from this most hotly contested season.
All 20 tracks are recreated in meticulous detail, including classics such as Silverstone, Monaco, Hockenheim and Monza, along with more recent arrivals such as Singapore's Marina Bay Circuit and the brand new Circuit of the Americas in Austin, Texas.
F1 2012 offers thrilling gameplay that, in an intense and extensive Career Mode, accurately simulates motor sports' most demanding competition. Players get to pursue a Formula One career and battle the likes of Lewis Hamilton, Fernando Alonso and Sebastian Vettel for the Formula One World Drivers' Championship. They can also take on the role of race engineer as well as driver, fine-tuning their car set-ups according to the circuit, weather conditions and their own handling preferences.

Official Webpage –
http://www.codemasters.com/uk/f12012/pc
---