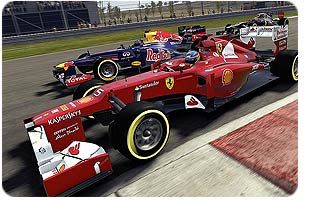 F1 2012 Update Patch 10 released.
Today sees patch #10 available on Steam for PC versions of F1 2012.
This update addresses the following issues:
Made some more minor improvements to the online. We're keen to get feedback on these changes via our forums.
Fixed an issue which would show a session to be "In The Lobby" when players were actually racing.
Fixed an issue where the Engineer would always be one place out when talking about your position relative to your objective.
Fixed some minor text issues with emails and press clipplings.
If you have seen lower GPU usage and framerate drop on the more recent patches you can try adding the line <track_info_system run_on_cpu="0" /> to hardware_settings_config.xml in Documents\My Games\FormulaOne2012\hardwaresettings. If this does cause unwanted side effects, please undo the change by deleting the line from the config.
The fixes listed above and those specific to the Xbox 360 and PS3 versions of the game are also being tested and verified on those platforms. As these versions require additional submission and authorisation from both Microsoft and Sony the release date for these will follow a little later than the PC version.
Previous Product Updates:

Patch 9
Made some improvements to the online game so car positions should be more accurate and less twitchy at high speeds.
Made some PC Framerate improvements for those people who had an FPS drop after patches.
Fixed the wheel weight property so that it will now work correctly
Fixed the final results screen for the client in a Co-op session so they see their stats not the hosts.
Fixed two infrequent crashes.
Patch 8
Added an option to turn the Parc Ferme rules on or off in online Custom Race, Co-Op and LAN games. This option can be found within the Simulation Settings and defaults to on. Setting this to off will allow players to set up their cars in Qualifying sessions and will also allow players who join in progress during qualifying to edit their car setup before the race.
Fixed an exploit in One Shot Qualifying where users could post impossibly quick lap times.
Patch 7
Added two new options for PC users to improve voice communications.
Added a Push To Talk option. This can be turned on in the Audio Options (My F1 -> Audio) and is bound to T by default. The key used can be edited in My F1 -> Driving Controls -> View / Customise Profile.
Added a Disable All Voice Comms option. This can be turned on in the Audio Options (My F1 -> Audio) and will disable all outgoing and incoming voice communication.
Fixed an issue where the track could become wet without any rain being visible.
Rebalanced engine wear so it will go below 99% during a season.
Patch 6
Made Pro level AI quicker so that the time gap to Legendary AI is smaller. We're keen to get community feedback on this change.
Fixed the weather system so that
Cars will no longer start the race on the wrong tyres.
Cars will need to change to intermediate tyres when it has been raining with sufficient intensity.
Fixed a crash in Co-Op when disconnecting on the results screens.
Fixed an issue where the point's totals on the Constructors Championship table were incorrectly doubled.
Medals awarded in season challenge now update the player statistics correctly.
Patch 5
Reduced the likelihood of the player getting a penalty when involved in a collision with an AI car.
Further reduced the chance of rain for all tracks and greatly reduced it for Sakhir (Bahrain).
Fixed Catalunya so that it's no longer possible to cut corners to gain an advantage. The PC Catalunya Time Trial Leaderboard will be reset after the patch goes live, this will either be done Friday evening or Monday morning (UK time).
Fixed an issue where the engine could be damaged or destroyed when using a flashback.
Reverted the changes to the force feedback from patch 4. While this improved some wheels, it was to the detriment of others.
Added an option to delete profiles.
Patch 4
Understeer: Adjusted track information to provide a more uniform level of grip across the entire surface
Fixed an issue where some users (especially those on laptops) were unable to change their resolution.
Fixed a crash in Co-op when trying to resume a session at the start of a Qualifying session that neither player would take part in.
Fixed issues with the weather system in Instant Replays / Race Replays which could instantly change the track wetness level.
Removed engine damage from the list of damaged parts that can force a pit stop to take priority over a drive through penalty.
Changed the Prime tyre compound to Hard for Suzuka to match the race this weekend. This change will not affect Time Attack which will continue to use the Medium compound tyre.
Added a white cross to the DRS OSD to indicate to that it is unavailable because of a fault.
Fixed a number of minor graphical issues.
Fixed a couple of minor issues with timers not resetting correctly.
Added a Skip Session option so players can leave any session without having to complete it.
Tweaked force feedback for all devices.
Improved the lighting on Singapore.
Patch 3
Fixed an issue with frame rates that was introduced in patch #2
Fixed an issue where using a flashback could result in an engine blowout effect. This would also result in the player doing an unnecessary pit stop if they were trying to serve a drive through penalty.
Fixed the achievement "The Equipment May Be The Same" to unlock in Career as per the description
Reduced the amount of starting fuel that the user is given for races Austin as it was previously too high
Fixed some issues in Co-op Qualifying when only one user progresses to the next session
Fixed a number of camera and graphical issues
Fixed several issues which would display the incorrect number of players in a lobby or a race
Patch 2
We've addressed the issue with the frequency of wet weather races.
Autosave bug – The issue some users were experiencing where saving during career play would stop functioning is now fixed
Players ranked 6 are now able to see online sessions hosted by other players
Car setups will no longer revert to the default settings if players quit back to the main menu from Parc Fermé
Time attack times no longer overwrite RaceNet event times
AI drivers now pit to change tyres at the correct time
Fixed an issue where players using voice communication might experience a crash when plugging in a mic
Fixed an issue where some players would experience a crash in Career tutorials after completing a Season Challenge
Players are no longer able to drive through barriers/environment after using a flashback in pits
Fuel consumption when using manual gears has now been brought in line with automatic gear usage
Camera angles when exiting the pit lane has been fixed
AI no longer pit after one lap when wet weather races have been restarted
Positioning of the top 4 ranked players on PC leaderboards has been corrected. Leaderboards will be reset later today in order to update player rankings. (Once players complete another online race they will be added back on to the leaderboard with all their stats intact)
Driver name plates can now be seen
Numerous graphical improvements made such as flicker on rain/ground textures, interface positioning and correction of some track surfaces that showed incorrect weather
Various fixes to cameras including the 3D effect and pit lane cameras
Numerous textual and localisation fixes included
Patch 1
Drivers should no longer have collisions with "invisible walls"
Fixed the desynchronised session of results which could occasionally lead to race result errors
Closed a small loophole which allowed erroneous times to posted to RaceNet
General RaceNet data upload stability improvements
Official Webpage –
http://www.codemasters.com/uk/f12012/pc
---