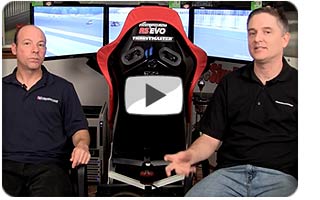 www.insidesimracing.tv presents This Week Inside Sim Racing. In the first show of the new year we start things off with a big show covering lots of topics.
We start things off with a couple of corrections to the recent Obutto Revolution Chassis review. Following that we have a new announcement about our new rig sponsor Human Racing. We also announce the new Human Racing Player Frame set and let you know how you could win one of our rigs.
In this show we also have an exclusive from Milestone and its regarding Moto GP 2013. We talk ab out the license and show of some screen shots that only we have. We also announce a different give away for some Forza Horizon Rally DLC codes as we take a first look at that expansion pack to the game. We also have a "Pimp My Simrig" segment with a very cool home-built rig for you to see.
In addition to that we also have a shout out to a great racing team, an announcement of the 5th annual Late Model Challenge, and talk about our training and pursuit of the 2.4 hours of Daytona Coming soon.
Official Webpage  –

www.insidesimracing.tv