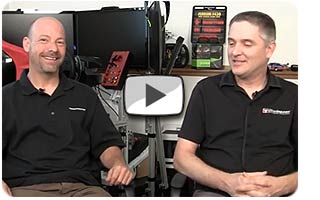 Thrustmaster Ferrari 458 Italia Edition Vibration Cockpit for XBox 360 Launch.
www.insidesimracing.tv presents our first look at the Thrustmaster Vibration Cockpit 458 Italia Edition for XBox 360 that is licensed by Ferrari. Darin Gangi and Shaun Cole attended a launch party by Thrustmaster that took place in San Francisco CA back in August where they got to drive the new cockpit with Forza Motorsport 4 and F1 2011.
Besides checking out the new cockpit by Thrustmaster, they also got to check out a full motion simulator by VRX that's powered by a DBox system that was running iRacing in 3D using NVidias 3D Vision technology.
Indycar driver Oriol Servia was on hand for the event as well and did some hot-lapping against Darin and Shaun. Watch and see how they did against him and what they thought of the new cockpit and the VRX.

Official Webpage – www.insidesimracing.tv
---