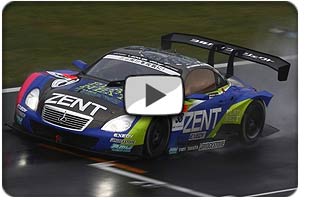 Real World Racing – 2012 SUPER GT Rd.8 MOTEGI. [Full Race – HD]
Yanagida and Quintarelli were crowned the GT500 championship winners
Mineo and Yokomizo took the GT300 victory and championship.
The Motegi GT 250 km RACE Round 8 of the 2012 AUTOBACS SUPER GT, took place at the Twin Ring Motegi (lap = 4.801 km x 52 laps) in Tochigi Pref. on Oct. 28. In difficult conditions with rain falling from before noon, the ZENT CERUMO SC43 (Yuji Tachikawa/Kohei Hirate) won the race by beating out the S Road REITO MOLA GT-R (Masataka Yanagida/Ronnie Quintarelli) that had clinched its second consecutive season championship title in the previous round.
In the GT300 class, the ENDLESS TAISAN 911 (Kyosuke Moneo/Naoki Yokomizo) won the race and, with it, the 2012 season championship title.
The rain that began falling from before noon soaked the track so the race had to be run in wet conditions. It was the first rain since entering race weekend and all the teams had to throw together machine settings for the rain and choose tires as best they could. For the drivers as well, the slippery conditions made for a very difficult race.

Video by Ikeman766

Official Webpage – http://supergt.net
---