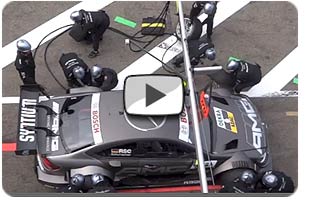 Watch the sixt round of the DTM series of the 2013 season held at the Russian Moscow Raceway.
Audi's Mike Rockenfeller has won the first ever Russian DTM round at the Moscow Raceway while his chief championship rival Bruno Spengler failed to score a point.
Rockenfeller led away well from pole-position and was able to control the pace at the front ahead of Mattias Ekstrom and Augusto Farfus who ran in close company during the opening laps.
Spengler, on the other hand, had dropped to eighth after starting fourth and eventually collided with Audi's Miguel Molina into turn 1, which dropped the defending champion out of points scoring contention and also forced the Spaniard to retire.
[EXPAND Click Here for the full result list.]
1. #19 Mike Rockenfeller Audi Sport Team Phoenix Audi RS 5 1:14:38.512s (74 laps)
2. #11 Mattias Ekstrom Audi Sport Team Abt Sportsline Audi RS 5 + 1.303s
3. #7 Augusto Farfus Jr. BMW Team RBM BMW M3 + 11.393s
4. #24 Adrien Tambay Audi Sport Team Abt Audi RS 5 + 12.275s
5. #3 Gary Paffett EURONICS Mercedes AMG Mercedes C-Coupé 12 + 17.495s
6. #12 Jamie Green Audi Sport Team Abt Sportsline Audi RS 5 + 18.704s
7. #8 Joey Hand BMW Team RBM BMW M3 + 19.363s
8. #2 Dirk Werner BMW Team Schnitzer BMW M3 + 26.117s
9. #23 Timo Scheider Audi Sport Team Abt Audi RS 5 + 34.184s
10. #9 Christian Vietoris Mercedes AMG-Team Mercedes C-Coupé 12 + 41.331s
11. #18 Pascal Wehrlein Mercedes AMG Mercedes C-Coupé 12 + 42.029s
12. #10 Robert Wickens STIHL Mercedes AMG Mercedes C-Coupé 12 + 43.782s
13. #6 Filipe Albuquerque Audi Sport Team Rosberg Audi RS 5 + 44.443s
14. #4 Roberto Merhi THOMAS SABO Mercedes AMG Mercedes C-Coupé 12 + 51.576s
15. #21 Marco Wittmann BMW Team MTEK BMW M3 + 52.941s
16. #22 Timo Glock BMW Team MTEK BMW M3 + 54.421s
17. #15 Martin Tomczyk BMW Team RMG BMW M3 + 58.460s
18. #17 Daniel Juncadella stern Mercedes AMG Mercedes C-Coupé 12 + 1 laps
19. #1 Bruno Spengler BMW Team Schnitzer BMW M3 + 1 laps
20. #16 Andy Priaulx BMW Team RMG BMW M3 + 1 laps
Retirements
#5 Edoardo Mortara Audi Sport Team Rosberg Audi RS 5 (retirement on lap 31)
#20 Miguel Molina Audi Sport Team Phoenix Audi RS 5 (retirement on lap 5)
Fastest lap
#24 Adrien Tambay Audi Sport Team Abt Audi RS 5 58.999s (96.872mph) on lap 70
[/EXPAND]
Official Webpage – http://www.dtm.com