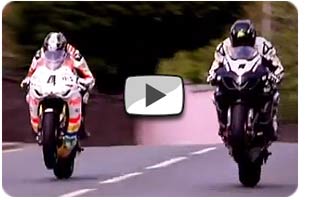 Real World Racing – That's A Man's Corner – SpecTTacular. [HD]
"Isle of Man Tourist Trophy" redirects here. For a series of car races held on the Isle of Man between 1905 and 1922, see RAC Tourist Trophy
.The International Isle of Man TT (Tourist Trophy) Race is a motorcycle racing event held on the Isle of Man and was for many years the most prestigious motorcycle race in the world.
The event was part of the FIM Motorcycle Grand Prix World Championship during the period 1949–1976 before being transferred to the United Kingdom after safety concerns and run by the FIM as the British Grand Prix for the 1977 season.
The Isle of Man TT Races became part of the TT Formula 1 Championship from 1977 to 1990 to preserve the event's racing status. From 1989 the racing has been developed by the Isle of Man Department of Tourism as the Isle of Man TT Festival.

http://www.iomtt.com/
---