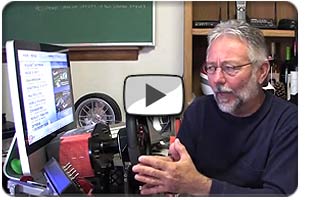 Sim Racing Review Doug Meyer talks about the Sim Instruments Dash.
Dash hardware
The Dash hardware is the most fully featured Dashboard peripheral on the market today for use with PC sim racing titles. Its unique combination of LED and RGB lights coupled with a LCD digits and backlight LCD display that gives the Dash its capability to output vast amounts of in-game telemetery in a manner that can be completely customised by the user.
This capabilty to output telemetry from the game precisely when and where the user wants it opens up new possibilities to improve lap times. Take a look below for a full list of features and tech specs for the Dash…
Features
Vast array of telemetry output options
Ultimate control over telemetry output – Provides a huge range of in-game telemetry output and complete flexibility on how it is displayed on the Dash.
Telemetry output options include:
> Sector splits
> Delta times
> Speed
> Fuel usage
> Track position
> In-car and in-race warnings
> Gear indicator
> RPM shift indicator
> Time to next car ahead
> Time to next car behind
> Lap number
Fully customisable LCD
Full customisation of how the telemetry is displayed is possible on the Dash. The LCD can be configured through the drag and drop Siminstruments software to display telemetery on various positions on the display.
The unique RGB backlight built right into the display makes it possible to change the colour of the LCD for a range of in-car and in-race telemetry and events including RPM, delta times, split times and yellow flags. For example, one cool use is to change colours from green to red to show if you are up or down on your previous best lap in real-time compared to your current lap.
LED digit display with configuration options
Not only does the LCD get customisation treatment, but the LED digits do too, with the Siminstruments software also providing drag and drop functionality to give users control over positioning of the output on the display of the lap times and sector splits.
RPM shift indicator
The Dash has an RPM shift indicator consisting of a bank of 15 LED's. This bank of LED's consists of a bank of 5 x red LED's, 5 x blue LED's, and 5 x green LED's.
The RPM shift indicator can be configured for each LED to light up sequentially in line with the car's revs, or in a 3 stage confguration with each of the LED's in one bank lighting up together and then moving on to the next bank in line with the revs.
Warning lights with functions defined by the user
Full warning light customisation is also available through the Dash's bank of 6 warning lights, consisting of 4 x LED and 2 x RGB (changeable colour) warning lights.
The 4 LED's can be customised to display various in-car warnings including, low fuel and high temperature while also having the ability to display in-game warnings such a yellow flags, blue flags and black flags.
If you want to assign different colours to different warnings, the RGB's are able to deliver this ultimate degree of control for both in-car and in-game warnings for users.
Integrated hardware design
The Dash incorporates multiple display devices in one hardware solution including gear indicator, RPM shift indicator, LCD digit display, warning lights and the unique LCD display with RGB (changeable colour) backlight.
Plug and play easy set-up
The Dash includes the Dash hardware and Siminstruments software. Just plug it in via a USB port on your PC, run the install wizard to install the Siminstruments software, run the software and you're away. Quick and simple, with the focus on getting the user on the track and using the Dash to peel off those PB's and race wins! If you don't have a spare USB cable you can also buy one in our store to use with the Dash.
High quality construction & Simcare full online support
Designed, engineered and assembled in Australia, the Dash has been constructed from high quality components to give you confidence that it won't pack it in only after a few months of use. We stand by the quality of our product with our Simcare online support to help set up Siminstruments products and provide ongoing support through our Forum to help you with any issues with set up. We also offer our Hardware Help service to provide a remedy to customers in the unlikely event of any manufacturing faults with the Siminstruments hardware.
For more info visit http://www.siminstruments.com
Official Webpage – http://simracingreview.com
---