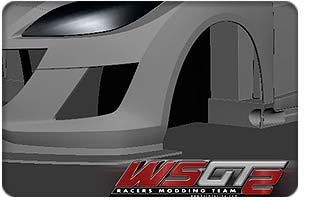 WSGT2 – First renders of the Mazda 3 20B Van Herck Racing [WIP]
Arnold is known to be a very passionate modeler, and pretty fast when it comes to quality and accuracy.
So as promised, once again he delivers a stunning model of the Van Herck Racing Mazda 20B .
The model is not yet textured, and a full detail cockpit will be added soon. 
RMT is creating the mazda as both a game model and a render project in cooperation with the Van Herck Racing Mazda team. 
The game model is supposed to appear in the upcoming Assetto Corsa sim, when possible.
Check out Van Herck Racing here – https://www.mazdabelgium.be/mazda-racing/_nl/btcs/
As usual, all is well at RMT.
PS: .. we have a little surprise cooking for the rFactor 2 fans, but more on that later.
Racers Modding Team