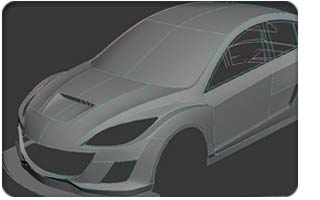 [AFG_gallery id='375′] 
I guess its time for a little update concerning the WSGT2 Renault Megane Trophy project for rFactor 2.
The engine and chassis model is updated now. The backfire is implemented, and the light now work. Basic Disc glow is done.
The cockpit window is also implemented, and we are still working on the driver model textures. We did not decided yet, if we will use a custom driver model, and or helmet, or keep the stock one. Sound work is shaping up nicely.
We are slowly going trough the list of things to do, and next up are the wheels and tires. The Megane will get two sets of rims. both in black and silver. The Megane will also receive a new set of brake calipers.  Once that is done , we can start concentrating on Bump and specular maps, and make it come to life.
At this moment we are also looking into the possibility to create some animated parts in the cockpit, but it has no priority at this moment.
The Megane is still using stock rF2 physics.  There are two versions of the car planned. The sprint and Endurance version. If time permits we will make a little progress video for those who are interested.
Still lots to do, but surely the development of the WSGT2 Megane Trophy mod for rFactor 2 continues.
The Megane Trophy is part of the bigger WSGT2 project by RMT. The mod is being build for both rF2 and Assetto Corsa.
Still a long way to go, but we will keep you posted. 
RMT, not charging for mods since 2006.  
You can follow the Development blog here
Racers Modding Team