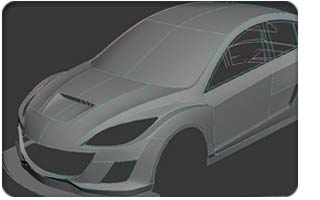 [AFG_gallery id='358′] 
It has been a while since we posted a few update previews, so here we go.
We have been working on the chassis and engine of the Megane Trophy, We have tried to come up with a polycount that will suit all of us out there. Sounds have been optimized since the last videos, and texture work is going into the right direction.
The headlights, backfire and disk glow have been implemented. We are still working on the tail light. At this time , no specular or bump maps are used, so their is still allot of work in that department, but we have almost all basic features in place. Once that is done we can begin to fine tune the aspects that are left. Model, graphics and sound will be optimized. Errors removed, and we will try to Polish every aspect of the car.
All screenshots are WIP and contain placeholders. Also our test driver is pretty much WIP, and will be replaced by a more handsome chap, next update.
For those wondering about the Physics, we are using the stock rF2 Megane set for the moment.  
Still lots to do, but surely the development of the WSGT2 Megane Trophy mod for rFactor 2 continues.
The Megane Trophy is part of the bigger WSGT2 project by RMT. The mod is being build for both rF2 and Assetto Corsa.
Still a long way to go, but we will keep you posted. 
RMT, not charging for mods since 2006.  
Racers Modding Team