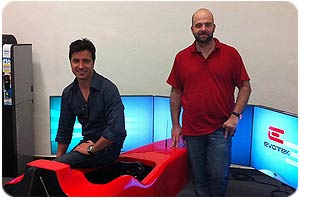 Kunos Simulazioni visits Evotek.
When coming back from Cologne, Kunos Simulazioni spent some hours at Evotek Engineering, an innovative company specialized in Automotive Design & Research near Maranello.
Evotek has developed an innovative motion simulator, powered since 2011 by a prototyped version of Assetto Corsa.
The Kunos team visited their partners, who showed them some upgrades of their system and the new pedal set that will equip the cockpit.
This motion platform features Assetto Corsa at its best,
EVOTEK SYM 026 is a professional dynamic platform installed on three rotation axes expressly designed for the driving simulation on the current F1 cars.
Directly developed from Formula 1 models, the control system, type hardware in the loop, and the high precision implementation mechanics allow a great system reactivity in terms of acceleration and precision of movements, providing an excellent realism of driving.
Manufactured by Riker Ltd on an exclusive Evotek Engineering Ltd design, EVOTEK SYM 026 platform is designed and divided into modules (or subgroups) in order to allow the evolution of each part. We obtain an extremely compact and elegant result with considerable advantages for transport, installation and service.
EVOTEK SYM 026 represents a platform aimed at the professional field, at the needs of motor sport and/or driver training, but also at entertainment centers or simply for a personal use for those who want to experience the emotion of driving a F1 car.
HARDWARE
– Dynamic platform on bearing monocoque;
– Three axes of rotation: pitch, roll, yaw;
– High responsiveness and movement precision;
– Professional quality of driving controls;
– Quick and easy adjustment of pedals;
– Monocoque like F1 2010 with sizes established by FIA rules;
– Force feedback realistic effect on the steering with values adjustable by the driver who can choose among dumping, friction and force up to a maximum torque of 8 Nm;
– Multifunction display that provides to the driver car and lap times;
– Carbon wheel control.

SOFTWARE "ASSETTO CORSA"
– High definition racetracks design;
– Fully adjustable virtual set up;
– Wide range of racetracks upon request;
– Constant upgrades.
Official Webpage – http://www.assettocorsa.info – http://www.kunos-simulazioni.com
Other strengths
Supply
The platform's movement system as well as the supply of computer, monitors and controls work with a 220V single phase voltage, allowing the use also with a domestic wiring. The whole consumption stays below 1.4kW/h.
Constant Upgrade
EVOTEK SYM 026 has been designed to allow future upgrades on the existing platform. Any implementation can be integrated and what is bought today represents a value for the future.

More info at http://www.evoteksimulator.com
---