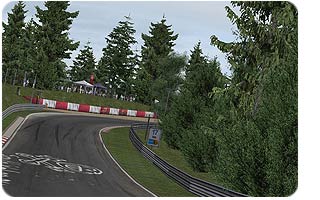 Game Stock Car 2012 – Nordschleife released by RaceDepartment.
RaceDepartment is happy to release the long awaited Nordschleife add-on track for Game Stock Car 2012. Based on the original Nordschleife 2007 for rFactor by Com8, 6e660 and friends, this version is modified and updated to match the standards of GSC 2012 resulting in more realistic grip levels for the 22 kilometer long Green Hell.
We like to thank the original creators for the permission, Mister X for the actual conversion and Dave Begley for the additional work.
Included are two different track layouts:
– Nordschleife Tourist
– Nordschleife Tourist Short (including the infamous Steilstrecke)
Three more variations will be released shortly so stay tuned to RaceDepartment.com if you don't want to miss out on the VLN 2005, VLN 2007 and Nürburgring 24 Hour Layouts.
Time Trail Competitions
In the coming weeks we will organize various time trial events on the Ring. To accommodate these events we are using a brand new version of our hotlap timing software that now also supports Game Stock Car 2012 thanks to a lot of hard work done by Ramon van Rijn.
You will find a permanent server in the Game Stock Car lobby called RACEDEPARTMENT.COM TT and all licensed members are invited to participate. Every hour the leaderboard will be updated with the newest times.
For more information please check out the Racing Club subsection in the Game Stock Car 2012 forums.
We will kick of the first leaderboard contest with the most powerful car in the game. The Formula One open wheeler also known as the Formula Reiza.
Read the full article at RaceDepartment

Download Here
---