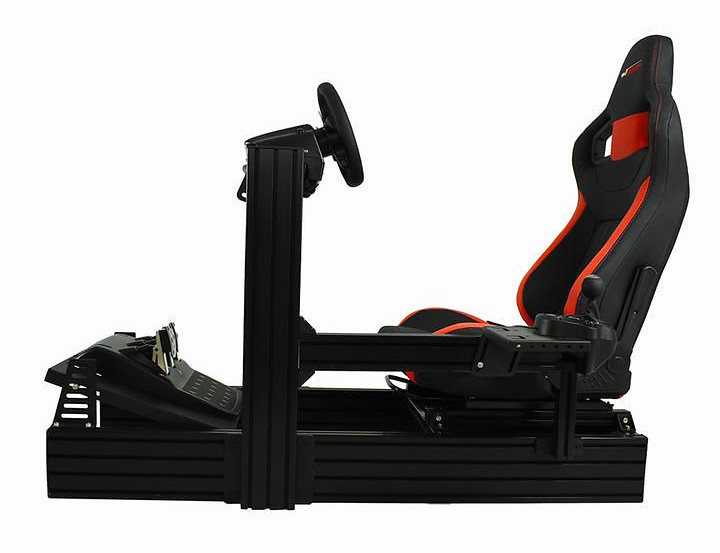 Over the years, the sim racing scene has changed, and so did the product demands of the sim racers. For many out there, sim racing is not just about online racing, but has evolved into a high-end hobby. Modern sim racing equipment such as direct drive wheels, high-pressure hydraulic pedals, heavy-duty H-Pattern shifters, and the likes have also significantly changed the requirements of the chassis on which these items are mounted. Furthermore, these days, many sim racers upgrade their gear on a regular basis, and therefore have the need for a highly adjustable, and often customisable sim racing chassis.
Long-term sim racers will be familiar with the GT Omega brand. The Scotland-based company has made an international name for itself, retailing wheel stands, sim racing cockpits, and gaming seats since the early days of sim racing. Popular products such as their budget-friendly PRO Simulator Cockpit, ART Cockpit, and the more recent and yet still very affordable Titan Cockpit, have all proven to be a good value for money, but might not meet the requirements of the advanced enthusiast.
That is why GT Omega, is now introducing the Aluminum Profile PRIME Series Cockpit. Using Aluminum Profile as a basis for the cockpit design results in a modular, very rigid, highly adjustable, chassis that is future proof. The main chassis of the Prime cockpit series is made out of 160x40mm durable anodized extruded aluminium profiles. The wheel Deck, Pedal Plate and Gear shifter mount are made out of heavy-duty carbon steel and are all adjustable to suit your personal requirements.
The GT Omega PRIME Cockpit is available in 3 versions. The Prime RS6, The Prime RS9, and the Prime XL RS. These versions are virtually the same but comes with different racing seats.
The GT Omega PRIME Cockpit is currently up for pre-order via the official GT Omega Website. Orders are scheduled to ship by 14th December 2020.
Pricing
PRIME Cockpit Without Seat – €669,95 + Shipping
PRIME Cockpit RS6 – €799,95 + Shipping
PRIME Cockpit RS9 – €819,95 + Shipping
PRIME Cockpit XLRS – €839,95 + Shipping
Key Features
160x40mm aluminium profiles
Sleek Black Anodized chassis
Adjustable seating position
Fully adjustable steering wheel position
Pedal position fully adjustable
Highly adjustable side mounting point for gear shifter
Perfectly suited for future upgrades
Compatibility
Fanatec Clubsport Wheels
Fanatec Elite wheel series
Thrustmaster wheels (T500RS, TC-PS, TS-XW, T300RS, T-GT)
Logitech G25, G27, G29, G920, G923
AccuForce V1/V2